11:50-12:30pm
Live Panel: The big leagues: RAS players ramp up large-scale projects
Panelists:
Martin Fogerhill, board director, Pure Salmon
Erik Heim, president, Nordic Aquafarms
Ohad Maiman, Founder/CEO, The Kingfish Company
Thue Holm, CTO and co-founder, Atlantic Sapphire
Moderator
Mari-Len De Guzman, Editor

Several large-scale RAS projects are currently at various stages of development, with some nearing completion and will be fully operational soon. Some of this major project proponents will share their experiences, the challenges and opportunities involved in building a RAS farm and producing fish upwards of 5,000 tons. From permitting and public engagement to raising capital, this panel will provide a glimpse of what's in the pipeline for this booming RAS sector.
---

Martin Fothergill, Partner and Co-Founder 8F,Board Director Pure Salmon,
Martin Fothergill is a Partner & Co-Founder of 8F Asset Management and Board Director of Pure Salmon. 8F is an impact focused private equity investment firm that invests globally in vertically integrated aquaculture production and processing facilities, using sustainable land-based Recirculating Aquaculture System technology, creating material positive social and environmental impact. For this purpose, 8F has created Pure Salmon, the global operating company which is on-course to build and operate multiple salmon facilities globally.
Martin is based in London and prior to starting with 8F in early 2017 spent 24 years in the finance industry including 18 years at Deutsche Bank where, as Manager Director, he held various global management roles in alternative investments. Before joining Deutsche, Martin held research roles at Bankers Trust, Santander and ING Barings focusing typically on emerging and frontier markets.
Martin holds a Masters Degree in Finance and Investment from the University of Exeter in the UK and has written articles on alternative investments and had papers published including in the Journal of Alternative Investments.
---
Erik A Heim, President, Nordic Aquafarms Inc. | Founder of Nordic Aquafarms AS
Heim founded Nordic Aquafarms and the subsidiary Fredrikstad Seafoods in Norway in 2014. He brought in the world´s largest RAS Kingfish project Sashimi Royal into the company in 2015. In 2018, Heim moved from Norway to Portland, Maine to head up the company´s US expansion. He currently lives with his family in Portland.
Nordic Aquafarms is currently successfully selling land-raised Atlantic Salmon and Yellowtail Kingfish in the European market. Fredrikstad Seafoods has brought the first land-raised salmon to market in Norway. The company´s current expansion projects are concentrated in the US – in Maine and California. Both projects will be construction-ready in 2021.
Heim has been active on the commercial side of the RAS industry for 10 years. His career before this was in financial services and consulting. He is educated in the US and is a dual Norway-US citizen.
Nordic Aquafarms specializes in large-scale RAS development, enabled by advanced internal engineering and production capabilities. Learning from three existing RAS facilities in operation are being leveraged to drive current expansion activities.
---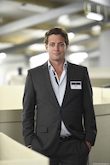 Ohad Maiman | Founder/CEO, The Kingfish Company
Ohad Maiman is the founder and CEO of The Kingfish Company. In his former business development career, Maiman has had the opportunity to evaluate, develop, and manage multiple operations in the oil & gas, petrochemical, water treatment and agricultural industries, and that was where he first encountered the land-based aquaculture sector. Impressed by the potential of the nascent field, Maiman left his former position and dedicated himself to study the opportunity in depth, culminating in the founding and launch of The Kingfish Company in 2015. He graduated from Columbia University in 2003.
---
Thue Holm | CTO and Co-Founder of Atlantic Sapphire
Thue Holm is the CTO and Co-Founder of Atlantic Sapphire, a member of the Executive Team, reporting directly to the CEO. Atlantic Sapphire is a Norwegian publicly traded company with its operational headquarters in Miami. The company is pioneering Bluehouse (land-raised) salmon farming locally and transforming protein production globally by building the world's largest, fullcycle-land-based salmon farming facility located in Homestead, Florida. Holm first partnered up with Atlantic Sapphire in 2011 and was appointed CEO until 2016. While in this position, he applied his expertise in the recirculation aquaculture, adding a great value and becoming a key partner in creating the commercial Danish pilot BluehouseR farm in Hvide Sande,
Denmark. Also, Thue was an essential and vital member in developing the design for the first US Bluehouse farm, which is currently under construction of Phase I in Homestead, Florida.
Following five years as a CEO he was named CTO on 2016, a strategic decision taken in order to utilize Thue's knowledge in the industry at his fullest and allow Johan E. Andreassen to dedicate his time entirely to the growing business. Since then, Holm has guided the company by overseeing the key projects and reviewing the grand master plans for Phase II and beyond, as well as ensuring that Atlantic Sapphire stays in the forefront of RAS development and technologies.
From 2011 to the present, Holm became the owner of Vet Fish Consult ApS, a Holding
Management Company. Thue's experience includes leadership positions, business successes and board of directors' positions in the aquaculture industry around the world. From 2017 to 2019 he was appointed at Dansk Akvakultur (Danish Aquaculture) as the Chairman of the Board of Directors of Intensive Aquaculture. This business delivers top-class international products, regulated according to the world's toughest environmental requirements. During 2012 to 2014 Thue held the position of CEO at Langsand Laks AS in Denmark, a company starting up landbased farming of Atlantic Salmon in recirculating aquaculture system. From 2005 and 2011 he was involved with technology trials of business development of the concept in Chile, Brazil and Denmark. Holm studied natural science with focus on Aquaculture at Roskilde University in Trekroner, Denmark.