12:50 - 1:30pm
Small is beautiful: Lessons from the RAS pioneers
Panelists:
Joe Cardenas, Founder and CEO, Aquaco Farms
James MacKnight, general manager, Ideal Fish
John Ng, president, Hudson Valley Fisheries
Sylvia A. Wulf, Chief Executive Officer and President, AquaBounty Technologies, Inc.
Moderator:
Brian Vinci, director, Freshwater Institute

Most of the early adapters of RAS currently in full, commercial production began as small-scale operations. As their production continues to grow, what lessons have these operators learned, how have they adjusted to the challenges, taken advantage of opportunities, and what are their strategies for scaling up?
---
John Ng, President
John Ng, President, oversees operations and management of Hudson Valley Fisheries, North America's largest bio-secure and bio-isolated land-based recirculating aquaculture systems (RAS) facility responsibly raising steelhead trout. Hudson Valley Fisheries emphasizes environmental stewardship and uses a holistic model in its operations which allows for year-round sustainable growth of steelhead. Its sustainable operational practices enable a small carbon footprint and support regenerative aquaculture that uses upcycled fish waste streams to nourish plant growth at adjacent Hudson Valley Fisheries subsidiary, New York Hemp Services. Before founding Hudson Valley Fisheries in 2014, John was Vice President of Multi-Max, a vending machine manufacturer and Fortune Group metals and plastic recycling. John earned both a BA and a BS from SUNY Binghamton.
---
Sylvia A. Wulf, Chief Executive Officer and President, AquaBounty Technologies, Inc.
Ms. Wulf was appointed Executive Director, President, and Chief Executive Officer of AquaBounty as of January 1, 2019. Prior to joining AquaBounty, Ms. Wulf served as a Senior Vice President of US Foods, Inc., where she had been President of the Manufacturing Division since June 2011. Prior to US Foods, Ms. Wulf held senior positions in Tyson Foods, Inc., Sara Lee Corporation, and Bunge Corp. She is also currently on the Board of Directors and the Executive Committee of the National Fisheries Institute and the Biotechnology Innovation Organization. Ms. Wulf has extensive experience in the food industry in North America, including its seafood sector. Ms. Wulf received a B.S. in Finance from Western Illinois University and an MBA from DePaul University.
---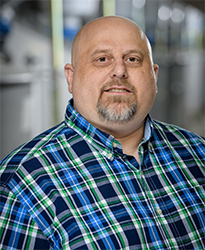 Brian Vinci
Brian J. Vinci is the director of the Freshwater Institute. He is responsible for management and administration of the Institute's day-to-day operations, as well as program delivery, communications, fundraising and development. Prior to joining the Freshwater Institute, Brian worked for the US Fish and Wildlife Service as a Research Technician and at Cornell University as a Ph.D. fellow. He has worked at the Freshwater Institute since 1999, including as an Environmental Engineer and as Director of Environmental Engineering Services. He holds a Ph.D. in Biological and Environmental Engineering, a Master of Engineering in Agricultural and Biological Engineering and a Bachelor of Science in Agricultural and Biological Engineering from Cornell University. He has been a USDA National Needs Program Doctoral Fellow, a Cornell University Master of Engineering Program Fellow, a USAID Technical Consultant and a Past-President and Director of the Aquacultural Engineering Society.  He has been awarded the Aquacultural Engineering Society Meritorious Service Award, the Association of Conservation Engineers Conservation Project Award and an Aquacultural Engineering Superior Paper award.